Beth Tzedec Calendar
Motown Megillat Esther
Feb 24 2021, 7:00PM to 8:30PM in the
Zoom
.
NOTE: This event has already occurred.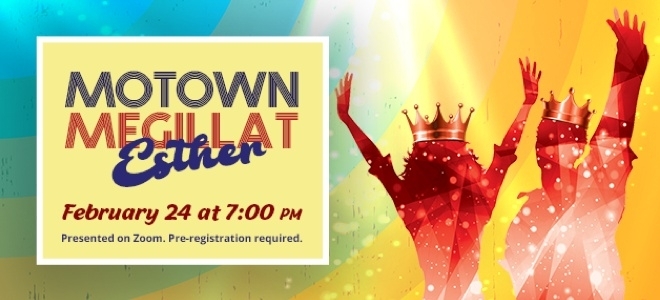 We continue our Zoom musical megillah cycle with Motown Megillat Esther. Every song is a hit and you will want to jeer and then cheer when the King sings "It's a Man's World" and Vashti replies with "Hit the Road, Jack; Haman sings "Up on the Roof" and Esther finally tell Haman there is "Nowhere To Run". A semi-serious attempt to understand each characters' arc through the music of Motown and dialogue from the Megillah. Actors will be in costume. Zoom participants are encouraged to dress up as well.
Presented on Zoom. Please register here to receive the Zoom link.

Download our Motown Megillat Esther playbill here>>
Event Details
For Registration:

Phone:

416-781-3511

Cost:

No charge
Categories
Festivals & High Holy Days
Seniors
Adults
Young Professionals
Families