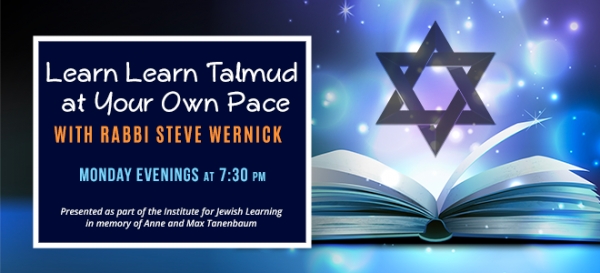 One of Judaism's greatest strengths is its affinity for diverse opinions and the debate, for the "sake of Heaven" to implement God's will in our lives. The Talmud is the source from which this affinity for debate and the code of Jewish halakhah (law) is derived. It is made up of the Mishnah (250 c.e. Israel) and the Gemara (500 c.e. Babylonia). The Mishnah is the original written version of the oral law and the Gemara is the record of the rabbinic discussions following this writing down.
For many, the study of Talmud can seem overwhelming. In this weekly Talmud learning with Rabbi Wernick, we will learn at a slow and deliberate pace, sequentially studying a single page of Talmud throughout the week, with Shabbat designated as a day for personal review.
This fall we will study Tractate Berakhot, the very first tractate of the Talmud.
No previous experience is necessary and students are invited to participate and drop in to our shiur as they are available. Participants will be encouraged to use materials on www.sefaria.org or purchase the Koren or Steinsaltz version of the tractate we are learning. These can be purchased at Amazon.ca.
Please register in advance so we may sign you up so we can communicate as our start date approaches. Please contact Rabbi Wernick for more information or register at https://bethtzedectoronto.shulcloud.com/event/learn-talmud-at-your-own-pace-with-rabbi-wernick.html.


Presented as part of
The Institute for Jewish Learning in memory of Anne and Max Tanenbaum