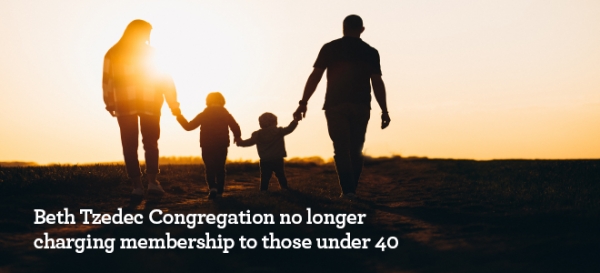 We have some exciting and important news to share with you!

Beth Tzedec Congregation is no longer charging membership to those under 40.

Click here to confirm your no-fee membership now.

What has possessed us to do such a thing? It's simple, really. Because we want to invest in our relationship with YOU. We care about you and your connection to our community.

So, what's the catch? There isn't one…

All we want from you is your involvement in our community.

Beth Tzedec's mission is to inspire our community to live meaningful Jewish lives, a commitment driven by six core values. Prior to the pandemic, we were busy creating exciting initiatives for people in their 20s and 30s to experience and live those values. Hundreds of young professionals participated in our Shabbat dinners, holiday parties, and Jewish learning opportunities. Many turned to our spiritual leadership to help them mark lifecycle events.

We continue to offer all these opportunities but COVID made us realize we need to do more to promote personal connections and relationships. For that reason, we launched additional initiatives to address that heightened need for connection and engagement.
We created Beth Tzedec Small Groups.
Launched a food insecurity fund with related volunteer opportunities.
Created Welcome Circles to match displaced Ukrainians with Beth Tzedec families.
Shifted Lishma, our learning community for those in their 20s and 30s, to an online platform.
Established a Race, Equity, Diversity and Inclusion (REDI) task force.
And the Spiritual Leadership Team, two of whom are trained therapists, offered spiritual support and counseling to hundreds of community members.
What's more, we're making a major investment in youth and family engagement, through the hiring of a new Assistant Rabbi for summer 2023 and a renewed focus on relationship-building and programming for parents with young children. We're so excited that we're back with our monthly Family Friday Night dinners and Shabbat Morning family services, as well as holiday programming, pre-Shabbat baby music classes and our New-ish Jewish Parents Small Group.

As we emerge from the pandemic, we've taken the experiences and knowledge from the past couple of years and become even more committed to our mission.

To confirm your membership, please click here. (That confirmation will replace membership fees to ensure that you're counted as a full-fledged member of our synagogue community.)

We look forward to welcoming you back to Beth Tzedec where we know you will find the connection you're looking for.

Wishing you a wonderful summer,

Arlyn Zimmerman, Co-chair Membership Committee
Michael Friedman, Co-chair Membership Committee
Patti Rotman, President
Don Smith, Chair of the Board
---
Wondering if Beth Tzedec is the right community for you? We invite you to take a look and see what parts of our mission and experience speak to you.
Want to learn more about Beth Tzedec? Click here to schedule a call with Yacov Fruchter, Director of Community Building and Engagement.