Beth Tzedec Memorial Park Pandemic Protocols
Updated April 26, 2020 – To protect the health and well-being of our entire community, Beth Tzedec Memorial Park has implemented revised protocols, effective April 26, 2020.
For the full text of the announcement, click here>>
---
COVID-19 Loan from Jewish Free Loan Toronto
March 26, 2020 – To help our community deal with the financial fallout of the pandemic, Jewish Free Loan Toronto has created a new emergency Covid-19 loan.
For more information, click here>>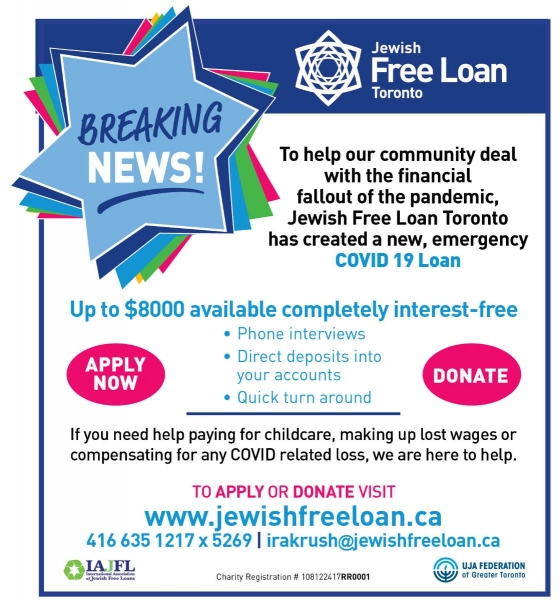 ---
Protecting Ourselves and Our Community
March 20, 2020 – We are entering a time of unprecedented personal restriction, and being good global and community citizens, we are all striving to do our part to both protect and support our families and communities. But even with the vast majority giving that extra bit of effort to aid and assist, there remains that very small minority who seek to profit and abuse the public good.
To read the rest of the announcement, click here>>
---
Community Update: Office Closure
March 19, 2020 – The leadership of Beth Tzedec relies on the advice and counsel of public health agencies as it makes decisions on behalf of our community. With a deep concern for the health and safety of our members and staff, we have made the decision to close the Beth Tzedec offices until further notice.
To read the full text of this announcement, click here>>
---
Community Update on COVID-19
March 9, 2020 – We have been advised by our friends at Beth Sholom that, out of care and concern for the community, Beth Sholom will be closed a thorough sanitizing due to the potential spread of COVID-19.
If you attended Beth Sholom on Thursday, March 5 or Friday, March 6 and are feeling unwell, we recommend that you stay home and reach out to Toronto Public Health, via 311.
To read the full text of this article, click here>>