If you are renewing your Generations Membership click here>>
---
HAVE YOU HEARD THE NEWS?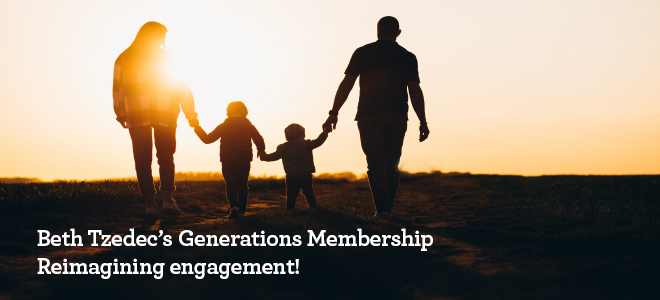 Beth Tzedec Congregation is continuing its no-fee membership program for those under 40.
Click here>> to confirm your no-fee membership now. Or keep reading below for more details about this breakthrough initiative in Toronto's Jewish community.
What possessed us to do such a thing? It's simple, really. Because we want to invest in our relationship with YOU and help you build relationships with like-minded Jews in a welcoming, inclusive, and connected community.
What's the Catch?
There isn't one. Our mission is to inspire members to live meaningful Jewish lives, and we are constantly looking for ways to lower the barriers for young Jewish adults in Toronto who want to belong to a kehillah like ours.
And it's working! In the first year of Generations Membership, we have welcomed over 400 new family units to our Congregation, making us North America's leader in under-40s synagogue membership with over 950 total households.
Embracing Engagement
We are busy creating initiatives for people in their 20s and 30s to experience and live the Jewish values that are at the core of our mission. From Shabbat Dinners, holiday parties, and learning programs to Shabbat Morning family services, pre-Shabbat baby music classes, and special interest, member-led Small Groups, we are excited to present a diverse and evolving range of inclusive programs.
To serve the needs of our growing membership, we have continued to make major investments. In the past year, we have added two new family engagement specialists to our team. Moreover, we have built a committed team of spiritual leaders, including trained therapists, who provide spiritual support and counseling to hundreds of members during life cycle events.
Questions?
Please contact Klara Romm, Membership & Engagement at KRomm@beth-tzedec.org or 416-781-3514 ext. 220
Join Today
To confirm your no-fee membership now, please click here>>
We look forward to welcoming you to Beth Tzedec where we know you will find the connection you're looking for.