Re: Annual Meeting of the Congregation May 25, 2021

Below, please find login information for your personal access to the online Annual Meeting of the Congregation.
If your household contains more than one voting member, we highly encourage each member to register separately and to log in to the Annual Meeting on a separate Zoom-compatible device (computer, laptop, tablet or smartphone). If your household contains more voting members than devices, please contact Karen Goldstein at kgoldstein@beth-tzedec.org to notify us of your situation.

If you do not have an electronic device through which to join the Annual Meeting, you can join by phone. Please contact Daniel Silverman at 647-883-1292 to receive the phone-in access information.

To register for the Annual Meeting, please email Karen Goldstein for a registration link. You will be asked to provide your name, email address and member ID as verification of your status as a member of the congregation.

When you receive your registration link, you will see a screen that should look like this: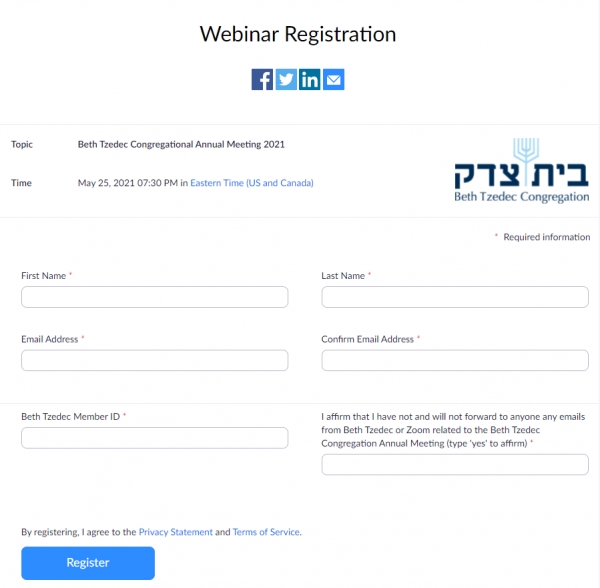 Once you click Register, your information will be sent to Beth Tzedec and your status verified. After your registration has been verified, beginning at 6:30 p.m. on May 25, you will receive an email from Zoom with a link to join the webinar that should look like this: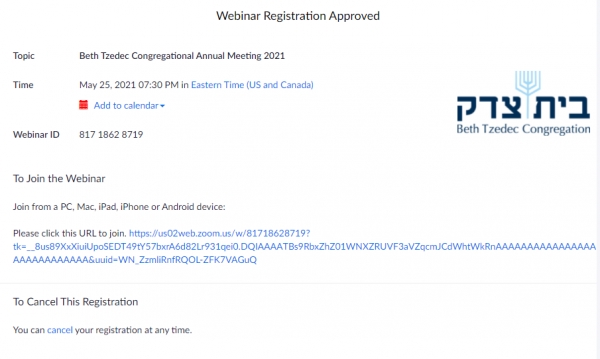 On Tuesday, May 25, you can join the Annual Meeting by clicking on the link in the email. Once your information has been verified, you will be granted access to the meeting. The meeting will begin at 7:30 p.m.

During the meeting, you will be able to ask questions through a variety of methods, including a Q & A tool and Chat box. The locations of these tools are highlighted in the screenshot below: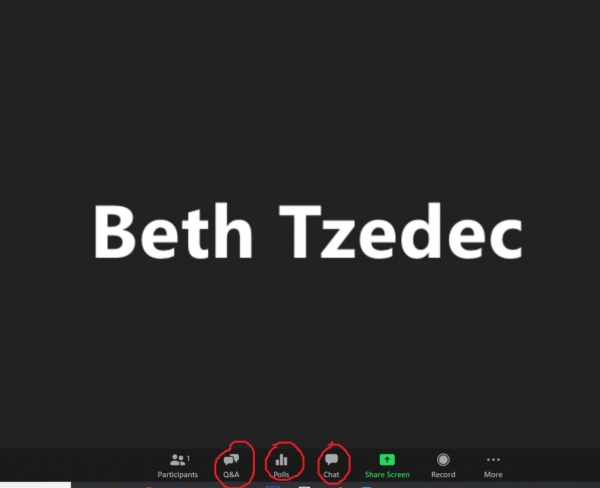 The moderator and panelists will see your questions via the Chat box. If you wish to have your microphone opened to ask a question live, you can click on the Q&A button and the moderator will be able to open your link.

As we are conducting the Annual Meeting online, we ask for your patience and support as we negotiate this new technology together.

Thank you in advance.