Beth Tzedec Calendar
Boundaries and Bridges with Dr. Tova Hartman
Pulpit Presentation and Lunch & Learn Presentation
Mar 30 2019, 8:45AM to 1:00PM
NOTE: This event has already occurred.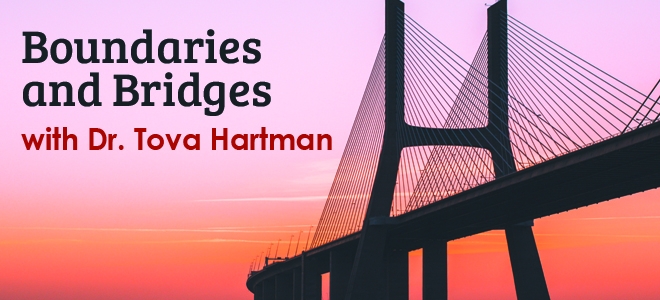 Dr. Tova Hartman, Israeli scholar and social entrepreneur, explores concepts of boundaries and bridges at a pulpit presentation and a lunch and learn following services. Everyone is welcome.
Pulpit Presentation—8:45 a.m.
Mirrors of Women: Desire, Deliverance and Devotion
Re-experience the music, energy and inspiration of Beth Tzedec's Shaẖarit service where we welcome Dr. Tova Hartman for an engaging and insightful presentation. Everyone welcome.
Lunch and Learn Presentation—Following Services
Can We Live Together? Marriage, Kashrut and Shabbat
For pre-registered guests only. Reservations are now closed.
Presented by:
Beth Tzedec Sisterhood
Lorna Kahn and family, in loving memory of husband and father Asher Kahn
Little MInyan
Toronto Partnership Minyan
Congregation Beth Haminyan
Event Details
For Registration:

Phone:

416-781-3514 ext. 234

Cost:

Cost for lunch and learn: $22 for adults; $10 children (ages 5 to 14); $50 maximum per family