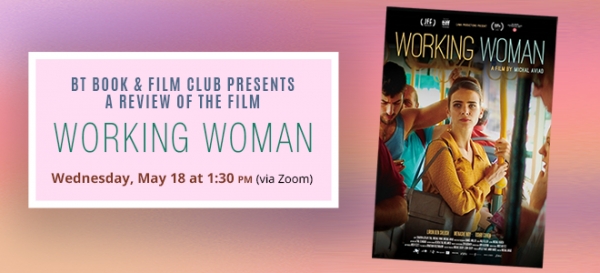 Dr. Gillian Helfield joins us virtually with a review of the film Working Women.
This Israeli film written and directed by Michal Aviad, tells the story of Orna, a married mother of three. Her husband recently opened a restaurant and is struggling financially. She decides to pursue a new career in real estate development, working as a coordinator and project manager.
As Orna discovers her talents and abilities in her challenging chosen field and feels she is growing and succeeding as a person, she simultaneously needs to deal with her husband's jealousy and her boss's growing obsession with her, and the accompanying abuse of power.
While Dr. Helfield will be reviewing the film at the program, you are expected to watch the film in advance on your own time. The film can be accessed through Kanopy (https://www.kanopy.com/en/), which is accessible for free for anyone with a Toronto Public Library card. If you do not yet have a library card, you can get a digital access card here: https://www.torontopubliclibrary.ca/register/.

Pre-registration is required for this series. To register, click here>>. Please note that you only need to register once for the Book & Film Club; you do not need to register for each individual session.