Beth Tzedec Calendar
BTUSY Baking for Ve'Ahavta: Cookies
for Teens in Grades 8 to 12
Jan 17 2021, 5:00PM to 6:00PM in the
Zoom
.
NOTE: This event has already occurred.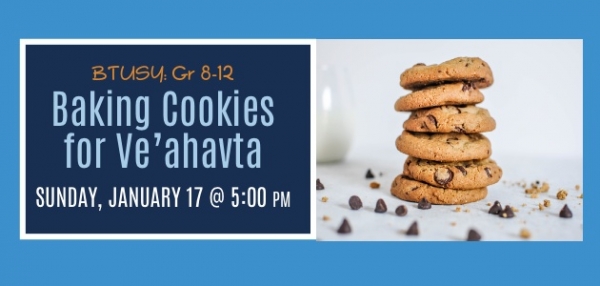 Join us as we bake delicious cookies to donate to Ve'Ahavta ... baked fresh in our own homes! To participate, you should have all the ingredients on-hand and ready for our Zoom program. (See list below). No charge, but pre-registration required. RSVP here to participate!
INGREDIENTS
Please gather these ingredients and 20 small ziplock bags, and join us over Zoom to make these together! More information about drop off and delivery to come.
4 1⁄2 cups all-purpose flour

2 teaspoons baking soda

2 teaspoons salt

2 cups butter, softened

1 1⁄2 cups granulated sugar

1 1⁄2 cups packed brown sugar

2 teaspoons vanilla extract

4 large eggs

4 cups chocolate chips
Event Details
For Registration:

Cost:

No charge