Beth Tzedec Calendar
Caregivers Connect with Rabbi Fryer Bodzin
The Centre for Spiritual Well-Being at Beth Tzedec
Jun 10 2021, 7:45PM to 9:00PM
NOTE: This event has already occurred.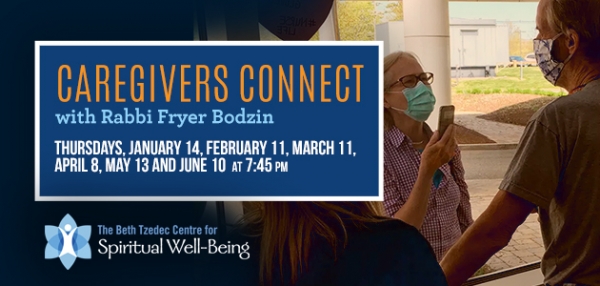 Rabbi Fryer Bodzin will be beginning a new series for family caregivers. Caregivers Connect will be an opportunity for individuals who have been unable to see loved ones, or with relatives in Long Term Care homes to connect with others and share their experiences.
Please email Rabbi Fryer Bodzin at rabbirfb@beth-tzedec.org to register.

This program will be streamed via Zoom at https://us02web.zoom.us/j/81125823794
Event Details
For Information:

Phone:

416-781-3511

Cost:

No charge.

Sponsor:

The Beth Tzedec Centre for Spiritual Well-Being
Categories
The Beth Tzedec Centre for Spiritual Well-Being
Seniors
Adults
Young Professionals