Reb Steve will share coffee with Hon. Jack Grossman, retired Judge and former President of Beth Tzedec Congregation. They will have a discussion on Hon. Grossman's new book, Decisions: My Memories as a Lawyer and Judge.
This week's conversation will be streamed to the Beth Tzedec Facebook pageand YouTube channel. It is the recording of the session from November 15, 2021 that could not be livestreamed due to a technical glitch.
Decisions: My Memories as a Lawyer and Judge Book Sales Opportunity
The Hon. Jack Grossman has generously arranged for copies of his book, Decisions: My Memories as a Lawyer and Judge, to be available for purchase for Beth Tzedec members at a cost of $24.95.
To arrange for purchase, please email decisions@rogers.com indicating the number of books you wish to purchase, and indicate code BETH TZEDEC. An e-transfer payment of $24.95 per book should also be forwarded to decisions@rogers.com. Books can be picked up from Beth Tzedec's offices once payment has been confirmed.
---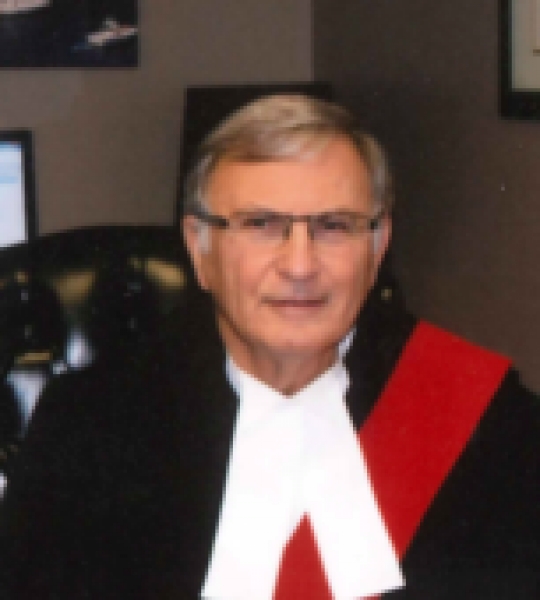 Jack Morris Grossman was born in Toronto on April 4, 1944. He obtained his Bachelor of Arts degree from the University of Toronto, majoring in Political Science. He graduated from Osgoode Hall Law School, obtaining his Bachelor of Law degree, and was called to the Bar of Ontario in 1971. He practised as a barris­ter and solicitor for 28 years in general practice with a focus on criminal law, appearing in criminal courts in over thirty Ontario communities.
He has always been involved in community service work. He served on the Board of Governors of Beth Tzedec Congregation (one of the largest Conservative congregations in North America) for 14 years and as President of the Congregation for two years. He served on the Executive of Eastern Region, United Synagogue of Conservative Judaism and as Chair of the Advisory Council at Baycrest Centre for Geriatric Care for two years. By Order-In­ Council O.C.702/99 dated April 14, 1999, effective April 28,1999, Attorney General, The Honourable Charles Harnick recommended, and Cabinet approved, Jack's appointment as a Justice of the Ontario Court of Justice. He served for almost 20 years until reach­ing the mandatory age of retirement on April 3, 2019.
During his judicial career, he served for eight years on the Board of the Ontario Conference of Judges/Conferencedes Juges De L'Ontario (now renamed Association of Ontario Judges/ Associationdes Juges De L'Ontario). He was co-ordinator of the annual conference and a member of the Education Secretariat for three years. Together with Justice Lawrence Feldman, he initi­ated worldwide Judges' tours to Israel, South Africa, India, South America and Eastern Europe. In addition to hundreds of oral judgements, he delivered over 200 written judgments in his judicial career.
Jack resides in Thornhill with his devoted wife Sandi. They are both very proud of their daughters Alisha (teacher) and Naomi (social worker) and their sons-in-law, Andrew (financial advisor) and Jonathan (accountant). They are blessed and very proud of their five incredible grandchildren, Max, Leigh, Yael, Noah and Shea and have a warm spot for Zoey and Emmitt, their grand-dogs.