Beth Tzedec Calendar
Shabbat in the Park for 20s and 30s
Aug 11 2017, 6:30PM to 8:00PM in the
Off - Site
.
NOTE: This event has already occurred.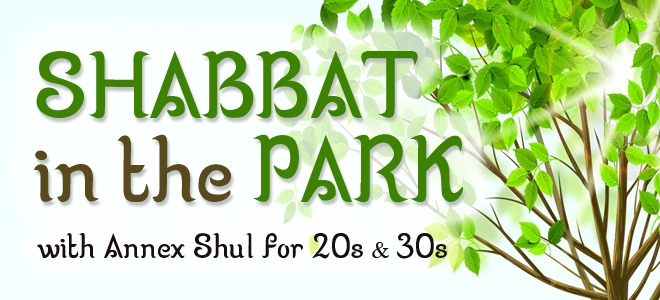 Join us at Christie Pits Park for a wonderful potluck picnic!

Beth Tzedec 20s & 30s and Annex Shul are gathering for a contemplative Open Air Shabbat in Christie Pits Park! Join us for a prayer service that weaves mindfulness meditation and guided intentions into a joyous traditional prayer service, to create a spiritually uplifted Shabbat atmosphere. Prayer services led by Aaron Rotenberg and Yacov Fruchter and friends will be followed by a vegetarian potluck!
We will be using the "Three Table System" for the potluck dinner.
Please bring a vegetarian dish to share (dairy and Kosher fish is cool), made with Kosher ingredients. Your dish can either be home cooked or purchased.
When you arrive, you will be asked to place your dish on one of three tables.
Table 2. Vegetarian food prepared in strictly vegetarian kitchens—no meat, fish, or fowl at all in the kitchen.

Services will begin at 6:30pm and dinner will follow.
To register,
click here>>
Event Details
For Registration:

Phone:

416-781-3511