Beth Tzedec Calendar
Melton Course: OMG Can You Believe It?
Seeking to Answer the Big Questions Around God and God's Relationship to Humankind
Feb 11 2021, 11:00AM to 12:30PM in the
Zoom
.
NOTE: This event has already occurred.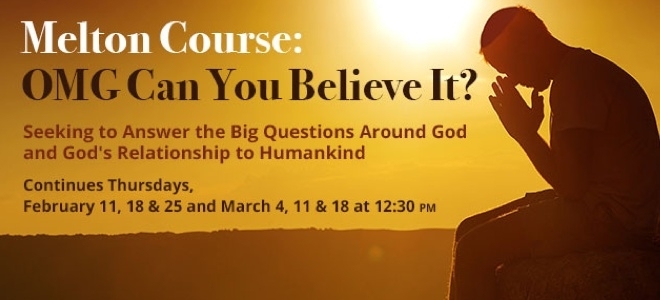 Taught by Rabbi Yael Splansky, Holy Blossom Temple & Rabbi Steven Wernick, Beth Tzedec Congregation

Take for yourself a Divine Moment to uncover and consider many different understandings of God expressed by Jewish thinkers, past and present. This 6 week course will give you the tools to continue asking deep questions, probing your own beliefs and rethinking the "God-questions" that confront us throughout our lives. Join us for this new Melton offering.

Registration can be completed here: https://congregationconnect.tfaforms.net/f/MeltonOMG2021
Event Details
For Information:

Phone:

416-781-3511

Cost:

Member at Beth Tzedec or Holy Blossom Temple: $150 per person Non-Member: $175 per person

Sponsor:

The Florence Melton School of Adult Jewish Learning, Holy Blossom Temple and Beth Tzedec Congregation
Categories
Beth Tzedec Hazak for Seniors
Seniors
Weekday Learning
Upcoming Events in this series
Mar 04 2021, 11:00AM to 12:30PM
Zoom
Mar 11 2021, 11:00AM to 12:30PM
Zoom
Mar 18 2021, 11:00AM to 12:30PM
Zoom