Beth Tzedec Calendar
Neighbourhood Interfaith Group Virtual Tour of the Holy Land
Nov 05 2020, 7:30PM to 8:45PM in the
Online / Live Stream
.
NOTE: This event has already occurred.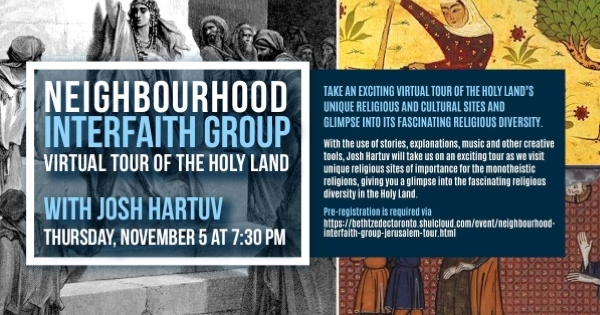 Join us for a Neighbourhood Interfaith Group Virtual Tour of the Holy Land with licensed Israeli tour guide, Josh Hartuv.
With the use of stories, explanations, music and other creative tools, Josh will take us on an exciting tour as we visit unique religious sites of importance for the monotheistic religions, giving you a glimpse into the fascinating religious diversity in the Holy Land.
Pre-registration is required via
https://bethtzedectoronto.shulcloud.com/event/neighbourhood-interfaith-group-jerusalem-tour.html​
Event Details
For Registration:

Phone:

416-781-3514 ext. 227

Cost:

Suggested donation of $10 to be used for a community organization helping people effected by COVID
Categories
Seniors
Adults
Young Professionals
Interfaith Action