Beth Tzedec Calendar
Sarah Hurwitz - Ancient Wisdom for a New World
Nov 11 2020, 7:45PM to 8:45PM in the
Online / Live Stream
.
NOTE: This event has already occurred.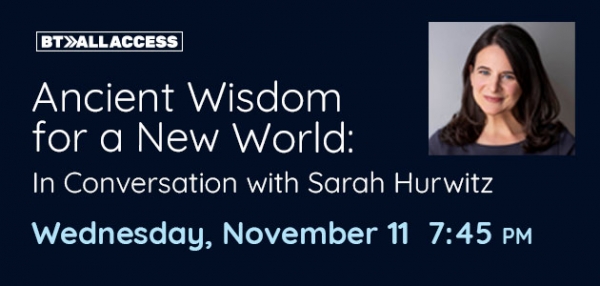 Sarah Hurwitz joins us to discuss Jewish wisdom and spirituality as a tool to help navigate a world irreparably changed by COVID-19. She will share insights and perspectives as someone who once described herself as a 'quintessential lapsed Jew" but came to explore the modern relevancy of ancient Jewish insights and scripture.
This program is presented free of charge but donations supporting the Member Relief Fund are appreciated.
---
Sarah Hurwitz is an American speechwriter, serving as senior speechwriter for President Barack Obama in 2009 and 2010 and head speechwriter for First Lady Michelle Obama. She was appointed to the United States Holocaust Memorial Council after leaving the White House. She is author or Here All Along.
In keeping with current Public Health and physical distancing recommendations, this program will be offered via Zoom. Pre-registration is required in order to receive the link information. You can do so by clicking this link: https://bethtzedectoronto.shulcloud.com/event/sarah-hurwitz.html

Event Details
For Registration:

Cost:

Recommended donations of $10 appreciated. Proceeds support the Member Relief Fund.

Sponsor:

The Florence and Harry Topper Fund
Categories
Seniors
Adults
Young Professionals