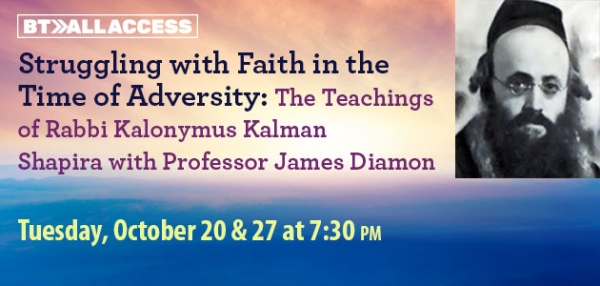 Professor James Diamond, the Joseph and Wolf Lebovic Chair in Jewish Studies at the University of Waterloo, leads a fascinating presentation on the teachings of Rabbi Kalmonymus Kalman Shapira, the Grand Rabbi of Piaseczno, Poland, who authored a number of works before his murder by the Nazis during the Shoah. What do his writings teach us in these times of political strife and a world-wide pandemic?
In keeping with current Public Health and physical distancing recommendations, this program will be offered via Zoom. Pre-registration is required in order to receive the link information. You can do so by clicking this link: https://bethtzedectoronto.shulcloud.com/event/struggling-with-faith-in-the-time-of-adversity-with-professor-james-diamond.html
---
Professor James A. Diamond is the Joseph and Wolf Lebovic Chair of Jewish Studies at the University of Waterloo. He holds a Ph.D. in Religious Studies and Medieval Jewish Thought from the University of Toronto, and an LL.M. from New York University's Law School. He is also a Herzl Institute/Templeton Foundation Fellow. Dr. Diamond is the author of Maimonides and the Hermeneutics of Concealment (SUNY, 2002) which was awarded the Canadian Jewish Book Award and Converts, Heretics and Lepers: Maimonides and the Outsider (University of Notre Dame, 2008), awarded Notable Selection-Jordan Schnitzer Book Award in the Category of Philosophy and Jewish Thought for best book in 4 years (2008). His most recent book, Maimonides and the Shaping of the Jewish Canon (Cambridge, 2014) was a recipient of the Canadian Jewish Literary Award and his book Jewish Philosophical Theology Unbound is forthcoming next fall from Oxford University Press.