Beth Tzedec Calendar
Tachles: A Hebrew Experience Series with Liel and Aya
Jun 07 2022, 7:45PM to 9:00PM in the
Zoom
.
NOTE: This event has already occurred.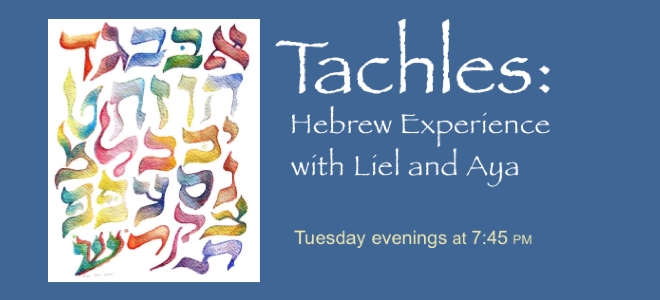 Aya and Liel, our UJA Shinshiniyot, are excited to offer lovers of Hebrew a place to gather together on Zoom and deepen their knowledge. The Tachles curriculum is perfect for beginners looking to grow their modern Hebrew vocabulary, and a parallel experience will be offered for those wishing to engage in Hebrew at a more advanced level.
Please contact Daniel Silverman to register.
Event Details
For Information:

Phone:

416-781-3514 ext. 231

Cost:

No charge

Sponsor:

Thanks to UJA Federation and the WZO for facilitating access to the Tachles curriculum
Categories
Tachles: A Hebrew Experience Series with Our Shinshiniyot
Adult Learning Opportunties
Seniors
Adults