Beth Tzedec Calendar
The US Election: Biden, Trump and the Future with Professor Stephen Berk
Oct 07 2020, 7:45PM to 8:45PM in the
Online / Live Stream
.
NOTE: This event has already occurred.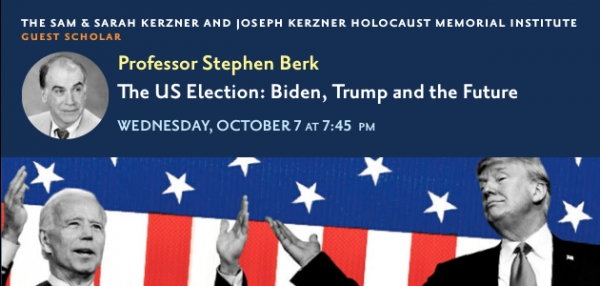 Beth Tzedec announces the first of three online lectures with Professor Stephen Berk, the Henry and Sally Schaffer Professor of Holocaust and Jewish Studies at Union College, New York.
Prof. Berk will give a timely talk on the upcoming U.S. elections and how the two men vying for the Presidency could impact the political, social and international landscapes.
In keeping with current Public Health and physical distancing recommendations, this program will be offered via Zoom. Pre-registration is required in order to receive the link information. You can do so by clicking this link: https://bethtzedectoronto.shulcloud.com/form/the-us-election-berk.html
Event Details
For Registration:

Phone:

416-781-3511

Cost:

Suggested $10 donation for the Beth Tzedec Membership Relief Fund

Sponsor:

The Sam & Sarah Kerzner and Joseph Kerzner Holocaust Memorial Institute
Categories
Visiting Scholar Prof. Stephen Berk
University & Grad Students
Seniors
Adults
Young Professionals
Weekday Learning