Beth Tzedec Calendar
Torah Through the Ages in honour and memory of Dr. Arnold Ages z'l
Nov 12 2020, 10:00AM to 11:00AM in the
Zoom
.
NOTE: This event has already occurred.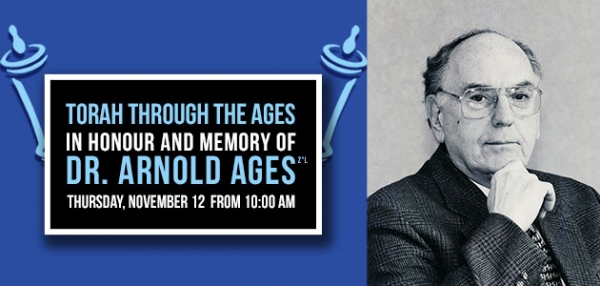 Join members of Beth Tzedec as we commemorate former Beth Tzedec scholar Dr. Arnold Ages. Dr. Ages was the Beth Tzedec Scholar-in-Residence, a teacher of Torah, and had a loving following at the shul. He devoted fifty years of his life to teaching at Beth Tzedec and he will be dearly missed by everyone in the shul community.
This commemoration will be on Zoom. Rabbi Frydman-Kohl, the Ages family, and former students will share words of remembrance. Rabbi Wernick will lead Kaddish and Cantor Sidney Ezer will lead El Malay.
Register at this link: https://bethtzedectoronto.shulcloud.com/event/dr.-arnold-ages-zl-commemoration.html
Event Details
For Registration:
Categories
Seniors
Adults
Young Professionals
Families