Celebrate every part of Shavuot—from a musical Megillat Ruth to learning and davening to making a delicious cheesecake, blintzes and pickles—with these BT All Access programs designed to help you connect with the holy days.

In keeping with Public Health restrictions and recommendations, this year's celebrations will be offered virtually—learning sessions offered via Zoom and Services streamed to our website.


SHAVUOT PROGRAMS
FAMILIES AND YOUTH
Sunday, May 9
at 10:30 am—
PJ Library presents Halav HuDvash (Milk and Honey)
Thursday, May 13 at 7:00 pm—
BTUSY & Kadima Shavuot Pickle-Making with Marty Strub
Sunday, May 16 at 11:00 am—
Shavuot Family Cooking: Blintzes and Cheesecake


ADULTS
Sunday, May 16 beginning at 6:30 pm—Tikkun Leyl Shavuot: An Evening of Learning and Davening: Pre-registration is required for all learning opportunities. To pre-register, click here>>
6:30pm—Keynote with David Zarnett: Helping Strangers: Why Do We Help People We Don't Know

7:20pm—H̱esed In Texts with Rabbi Fryer Bodzin and Yacov Fruchter

7:20pm—Mitzveh v. Mitzvah (Good Deed v. Commandment) What Motivates H̱esed? with Rabbi Wernick

8:15pm—Minẖah and Festival Ma'ariv Service, followed by Standing in Sinai: Personal and Communal Revelation with Aviva Chernick (livestreamed to here)


EVERYONE
Wednesday, May 12
at 7:45 pm—
Megillat Ruth: The Musical
SHAVUOT SERVICES
EREV SHAVUOT—SUNDAY, MAY 16
9:30am
—Pre-Yom Tov Online Yizkor Service (on Zoom:
click here
)
8:15pm
—Minẖah and Festival Ma'ariv Service (livestreamed to
here
)
SHAVUOT DAY ONE—MONDAY, MAY 17
9:30am
—Morning Sanctuary Service (livestreamed to
here
)
SHAVUOT DAY TWO / YIZKOR—TUESDAY, MAY 18
9:30am
—Morning Sanctuary Service including Yizkor (livestreamed to
here
)
9:20pm—Havdalah, Torah Study and Kaddish on Zoom (click here)
---
CELEBRATING WITH COMMUNITY PARTNERS



The MNjcc's Tikkun Leil Shavuot is turning 13, and we're staying safe at home for our B'nai Mitzvah year.

Join all of your friends from the downtown Toronto Jewish community on Sunday May 16th, where we'll be learning live on Zoom from 6 pm to midnight. With 18 sessions to choose from and a self-guided (tech-free) study supplement, there's something for everyone at this year's Tikkun Leil Shavuot - a virtual night of community, study, snacking and more!
Free and open to all, regardless of heritage, ability, experience or level of observance. We are committed to accessibility. This event will have auto-captioning. Please be in touch by email at LaurenS@mnjcc.org or by phone at 416.924.6211 to let us know about your access needs as soon as possible.
There are three sessions every hour and each session falls under one of three headers:
CONTEMPORARY TEXT HANDS-ON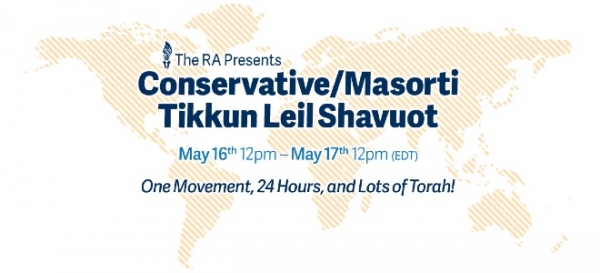 The Rabbinical Assembly is excited to present the Conservative/Masorti Tikkun Leil Shavuot from May 16th at 12:00 PM – May 17th at 12:00 PM EDT in partnership with United Synagogue of Conservative Judaism (USCJ), the Cantors Assembly (CA), the Federation of Jewish Men's Clubs (FJMC), Seminario Rabínico Latinoamericano, and the Women's League for Conservative Judaism. Click here to view the full list of supporting organizations.

Access to the experience is FREE for all, regardless of synagogue affiliation or organizational participation. We are excited to announce that we have just released our full schedule of the learning, available here! The link to the live event is: https://tinyurl.com/CMTikkun.
We encourage you (if you haven't already) to register here for Tikkun Leil Shavuot scheduling updates, and to share this registration page with your communities.
Please reach out to Ilana Garber if you have any questions.