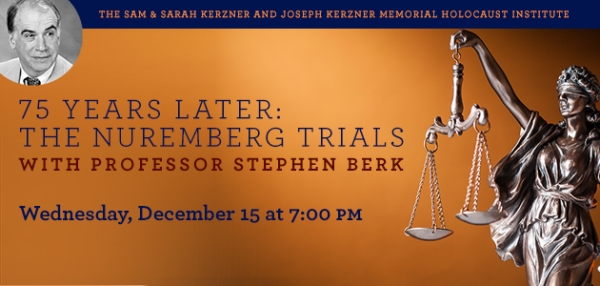 In the first of his three part 2021-2022 lecture series, Prof. Stephen Berk will revisit the Nuremberg Trials of 1946 and share what we can still learn from them 75 years later.
This program will be delivered through Zoom. Pre-registration is required in order to receive the Zoom link. You can register here: https://bethtzedectoronto.shulcloud.com/form/berk-lecture-december-15.html
PROMOTIONAL PARTNERS

Beth Emeth Bais Yehuda Synagogue
---
Dr. Stephen Berk is the Henry and Sally Schaffer Professor of Holocaust and Jewish studies at Union College in Schenectady, New York. He is the former Chair of the Department of History, Director of the Program in Russia and East European Studies and helps advise the Hillel organization at Union.
Professor Berk is considered an absolutely superb lecturer and teacher. His lectures are outstanding and he is in high demand as a guest speaker. He is always informative, interesting and entertaining. He is widely known for his expertise on the Holocaust, Russia, the Middle East and a variety of Jewish subjects.