This is the Syrian family Beth Tzedec is sponsoring and we need your help.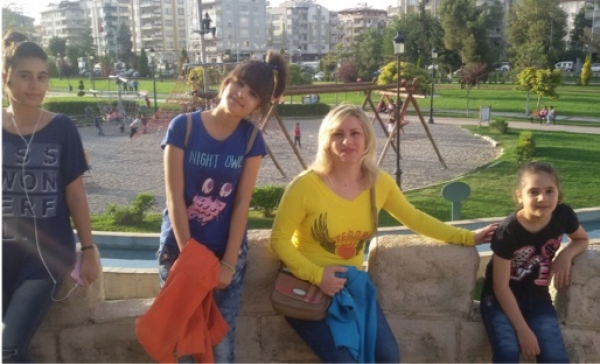 Beth Tzedec Congregation is sponsoring this Syrian refugee family currently residing in Turkey. We have been working with Jewish Immigrant Aid Services of Toronto (JIAS Toronto), and our working group has been coordinating with relatives of the family here in Toronto to prepare for their arrival. The family is expected to arrive in Canada by the end of September.
As a bit of background, the family includes a mother, father, and three daughters aged 14, 12, and 7. Until they are safe here in Canada, we are withholding their names.
They are members of the Ismaili Muslim community of Syria and did not support the current Syrian government, refusing to join the pro-government militias. Being Shia, they are a main target of ISIS, and without the backing of the government, they are in a very precarious position.
In recent years, Ismaili Muslims have settled in U.S. and Canada, quickly joining in the social, educational and economic spheres of their new homes. As followers of the Aga Khan (who has established the Aga Khan Museum here in Toronto), Ismailis promote tolerance and mutual understanding among people.
As we prepare for their arrival, we need your assistance to aid their transition to life in Canada. Here are some ways you can help:
Donate to the fund:
Please consider making a contribution to the Syrian Refugee Program Fund, which provides food, shelter and support to their resettlement in Toronto. Donate to this fund
While we have raised the minimum amount required, we are actively trying to raise more in order to account for the high cost of living, especially housing in Toronto, and ultimately increase the chances of a successful settlement.
Gifts in Kind Registry:
The family also needs specific items in new or very good condition and we are coordinating with Annex Shul on collecting these items. In order to streamline this process, we created an online items donation registry to help track items received and those still required. To access the registry, click here, and indicate any items that you have or plan on purchasing.

Please bring the donations to the Synagogue office from October 13 to 21 between the hours of 10:00 a.m. and 5:00 p.m. Please note that the office will be closed Shabbat, Sundays and Sukkot – October 17 and 18.
If you have any questions, please contact Yacov Fruchter or Joseph Milner.
Housing Help
Finding appropriate housing has proven to be a challenge because of budgetary restrictions, as well as reluctance from property management and owners to rent to refugees. We are currently searching for a 2 to 3 bedroom apartment for $1,200 to $1,500 per month in either Markham, Thornhill or Richmond Hill. If you have any contacts who are property managers, owners or developers who would be interested in helping, please contact Yacov Fruchter.