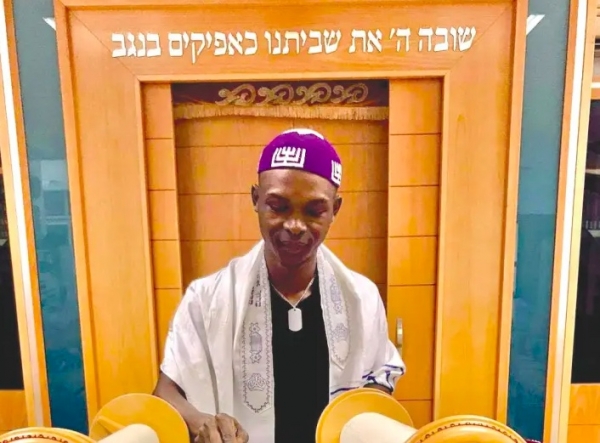 Many in Israel and around the world have closely followed the case of Yosef Kibita, a Ugandan Jew who has been waging an intense legal struggle to make Aliyah since 2018. Yosef, who has lived on the Masorti-affiliated Kibbutz Ketura in the Negev since moving to Israel, has faced tremendous opposition from the Interior Ministry. Yosef suffered another blow from the Ministry that once again rejected his request to make Aliyah, and a home, in Israel. He now faces deportation, currently expected by the end of 2021.
You can read more about Yosef and his efforts to make Aliyah here.
Yosef, who was already Jewish, was converted again by a Masorti religious court. He did this to comply with an 8-1 decision in March by the Supreme Court, which ruled that Conservative and Reform Conversions in Israel must be recognized for purposes of Aliyah and the Law of Return. Because of Yosef's long connection to Jewish communal life in Uganda and Israel, the Masorti court did not mandate a new and extended period of study as part of Yosef's conversion process.
Please consider sending brief and polite email messages to Prime Minister Naftali Bennett, Interior Minister Ayelet Shaked, and Immigration and Absorption Minister Pnina Tamano-Shata raising grave concerns about the potential deportation of Yosef Kibita and the government's failure to recognize Conservative conversions.
Sample language and email addresses are included below.
Email addresses:
Prime Minister Naftali Bennett:https://forms.gov.il/globaldata/getsequence/getHtmlForm.aspx?formType=ContactUsEn@pmo.gov.il (This is a comment form for the Prime Minister.)
Interior Minister Ayelet Shaked:sar@moin.gov.il
Immigration and Absorption Minister Pnina Tamano-Shata:sara@moia.gov.il
On behalf of the Masorti Foundation, and the Masorti Movement in Israel, we thank you for your concern and for any efforts you make on behalf of Yosef Kibita.
---
Sample Language for Advocacy Emails:
Dear XXXXXXXXX,
As a Zionist and committed pro-Israel activist, I am writing to express my deep concern over the impending deportation of YosefKibita, a passionate fellow Zionist from Uganda who is seeking to make Aliyah and connect his Jewish future to the Jewish State.
Yosef has lived his whole life as a Jew; has formally converted to Judaism, first in Uganda and again in Israel; and has lived as a Jew at Kibbutz Ketura since arriving in Israel. Most recently, complying with a March Supreme Court decision, Yosef was converted by a beit din of the Masorti Movement of Israel. He nevertheless was rejected again by the Ministry and now faces imminent deportation.
I urge you to take all steps necessary to prevent this grave injustice and to prevent Yosef's deportation. Additionally, I urge you to honor the promise of the Supreme Court's decision and to ensure that Masorti and Reform religious courts are treated equally for the purposes of Aliyah. These steps are essential to fulfill the vision of Israel as the homeland of the Jewish people, wherever they were born and with whichever stream of Judaism they identify.
Thank you for your immediate attention to this pressing humanitarian and Zionist concern.
Respectfully,
(Your Name here)